By Lour Harb, Intern Summer 2019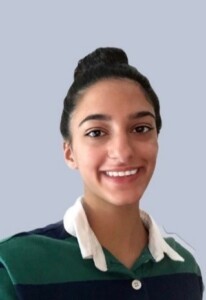 Pursuing a Bachelor of Science degree at the University of Virginia, I've had a great interest in the global health field. Consequently, during the summer of my sophomore year, I undertook an internship at WI-HER, LLC. WI-HER provides many learning aspects and benefits. I was most excited and interested in exploring the application of clinical knowledge to the field of public health.
While there are so many qualities of working at WI-HER, my favorite part was the staff. Dr. Taroub Faramand is the Founder and President of WI-HER. Dr. Faramand gave me a better look into public health by letting me accompany her during conferences and meetings. Allison Foster, the Vice President of WI-HER, directed me with all the research and data synthesis needed for proposals. This improved my writing, communication, and public speaking skills. Finally, Morgan Mickle, a gender and training specialist, helped me in the process of becoming familiar with the organization and what it stands for. WI-HER works to close gender gaps and utilize cross-sector approaches so that women, men, girls, and boys can lead better, healthier lives. WI-HER works vigorously to ensure citizens are aware of their rights and know how to access and utilize services.
While working at WI-HER, I was responsible for several data synthesis, research, and knowledge-sharing projects. I created presentations to share my research of new and innovative study methods. I also spent some time understanding and discussing topics such as, validity, quantitative and qualitative methods, and data collection in conflict zones. With my gathered research, I created new and engaging learning approaches for my presentations. Throughout my time at WI-HER, I learned about the field of public health and how to better present in a professional environment.
As my internship comes to an end, I can't help but feel a great sense of honor and a privilege to have worked with so many wonderful staff. The WI-HER team played a great role in guiding me with my projects and in this way, and I gained a new sense of professionalism and a clearer view of what it means to be in the world of public health. With my passion and interest for public health, now greater than ever, I will pursue a career focusing on disadvantaged family members in different fragile areas. As for my academic career, I will apply every technique and experience learned from WI-HER at the University of Virginia.